Why Child ID Cards?
As parents, we want only to keep our children safe an happy. So, the fact that in 2017 there were 464,324 NCIC entries for missing children should have us a little worried. Many of these incidents can be avoided, however, by simply having your child carry contact information on them at all times.
For parents, keeping the same photo ID in our wallets is also beneficial—ensuring you always have a durable up-to-date photo of your child at all times.
So, realizing there is a need for durable, inexpensive, photo IDs for children, we partnered with Instantcard to bring you the Child ID. And, since we are always looking to provide you with the best product possible, we encourage you to CONTACT US with any thoughts or suggestions.

Why not just print ID cards myself?
This is certainly an option. In fact, this project was inspired by several blogs instructing on how to create your own paper IDs. The problem with paper IDs, however, is that they are easily destroyed or lost.
Our Child ID cards are made from the same durable PVC plastic as your credit cards. (If you've ever tried to destroy a credit card without good scissors, you know how hard they are to destroy!) They're also printed using thermal retransfer, HD printing, making them way more resistant to wear than plastic cards printed at home.
So, in the end, you don't need to worry about bending your Child IDs, scratching them, or getting them wet—they'll hold up.
Do I need to include all of the information to order a card?
Absolutely not. We just wanted to make sure you could include whatever you felt was necessary to best utilize your child ID cards. We only require that you include your child's name, your name, and your contact information.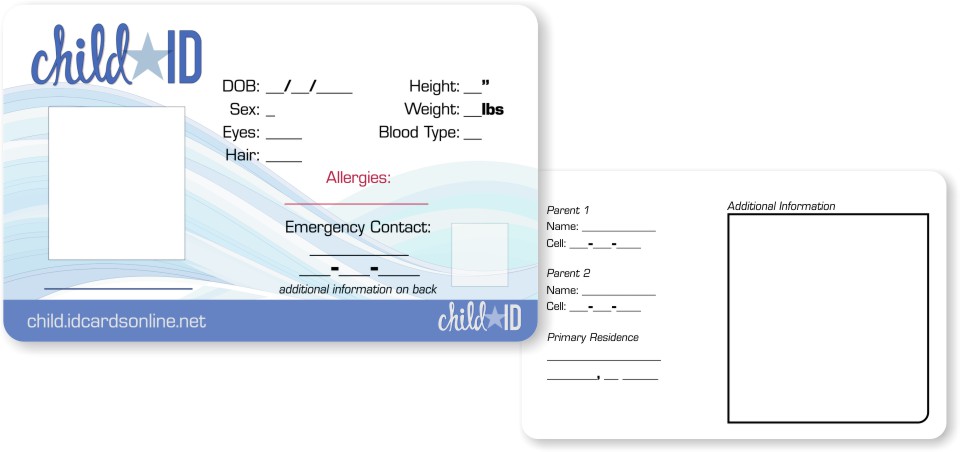 Why would I need more than one?
We included the option to not only include possible allergies on your child's ID, but any other additional information. This allows the cards to serve more purposes than simply identifying a lost child.
It makes sense to give copies to:
⋆ The child ⋆

(of course!)
⋆ You ⋆

in case you need to use their photo
⋆ Babysitters ⋆

so that they have important information handy
(and, if you have more than one child, they can more easily identify
each kid's needs from the photo)
⋆ Teachers ⋆

so they have a durable record of your child's needs,
allergies, blood type, etc.